Earlobe Repair
Earlobe repair is a common procedure for men and women, children and adults. Years of wearing heavy earrings can stretch the earlobe, making it difficult to wear studs. Also, traumatic tears of the earlobe can result in an unattractive cosmetic appearance.
Who is a good candidate?
Stretched earlobe
Torn earlobe
Can be performed in children or adults
How is the procedure performed?
Earlobe repair is performed under local anesthesia in the office. It takes about 20 minutes per ear. A small bandage is worn for one week. Sutures are removed on day seven for adults, day five for kids. Ears can be re-pierced in 6 weeks. Our experienced facial plastic surgeon, Dr. Jess Prischmann, strongly recommends that repaired earlobes be re-pierced in a location other than the suture line.
Gauged Earlobe Repair
Gauged ear repair is becoming an increasingly popular treatment. These days, our practice evaluates patients with gauged ears just about every week. Many of our patients put plugs in their ears as teenagers, stretching their earlobes and creating an unnatural look. Some feel that they are negatively judged and often may face professional obstacles due to the appearance of their ears. The process for repairing guages is different from repairing torn earlobes. The stretched, excess skin must first be removed. Then, the remaining skin can be reconstructed to give the earlobe a more natural shape. To minimize discomfort during the procedure, gauged earlobe repair is typically performed under local anesthesia. The procedure often takes only about 30 minutes per ear. Ears can usually be re-pierced once the earlobe is fully healed. We recommend avoiding the use of large, heavy earrings to prevent tears to the earlobe.
What is the recovery?
There is minimal downtime associated with an earlobe repair. It is not considered a painful procedure. A small bandage is worn for one week and care is taken to avoid getting the bandage wet. Sutures are removed on day 5-7 and ears are re-pierced 6 weeks after the procedure.
Before and After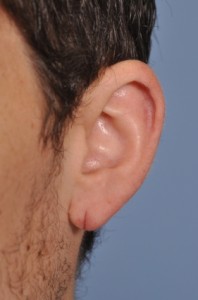 Before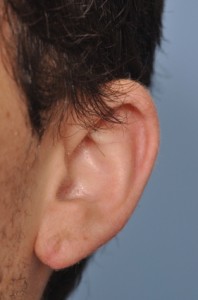 After
*Individual Results May Vary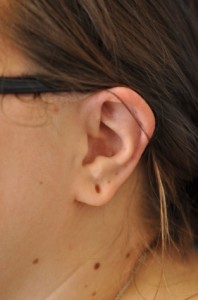 Before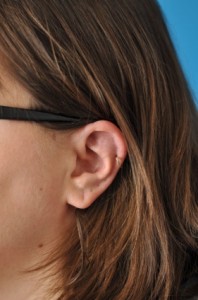 After
*Individual Results May Vary
Dr. Prischmann will be happy to meet with you in a confidential consultation to talk about earlobe repair procedures and how they can help you meet your needs. Please contact us today for more information.