KYBELLA™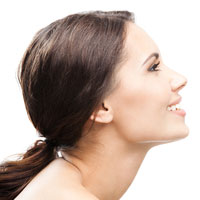 KYBELLA™ is now available at the practice of our experienced facial plastic surgeon, Jess Prischmann, MD. Approved by the U.S. Food and Drug Administration (FDA), KYBELLA™ is an innovative injectable treatment designed to improve the appearance of moderate to significant submental fullness – a cosmetic concern more commonly known as a "double chin" – through the destruction of fat cells. Composed of a deoxycholic acid solution, this advanced technique is the first non-surgical procedure of its kind.
Who Is a Good Candidate?
Diet and exercise-resistant accumulation of fat below the chin (double chin)
Interested in improving the appearance and profile of the chin
18 years of age or older
Overall healthy with appropriate expectations
How Is the Procedure Performed?
The KYBELLA™ treatment is typically performed in-office and can be customized based on the patient's specific needs and cosmetic goals. During the procedure, the KYBELLA™ solution will be carefully administered via injections into targeted fat underneath the chin. The entire treatment session is reported to take about 15-20 minutes to complete, depending on how many injections are needed. According to the manufacturer, multiple KYBELLA™ treatments spaced at least one month apart may be required to achieve optimal outcomes, though retreatment is not typically expected once desired results have been attained.
What Is the Recovery?
Following treatment with KYBELLA™, reports indicate some minor bruising and/or swelling may occur, but these side effects often resolve over the course of a few days (sometimes up to a week). Mild discomfort in the targeted area may also be present; however, this side-effect can generally be managed with pain medication, if necessary. Overall, most patients are able to resume their normal daily routines within one to two days of treatment. As a brand new procedure for our office, we will carefully track the response to this treatment and provide honest feedback on the typical experience to help individuals determine if this method may be right for their needs and goals.
If you are interested in KYBELLA™ and would like to schedule a consultation with Dr. Jess Prischmann, please do not hesitate to contact us today. Dr. Prischmann will be happy to answer all of your questions and help you determine if this is the right treatment for your unique needs and goals.