Meet Dr. Prischmann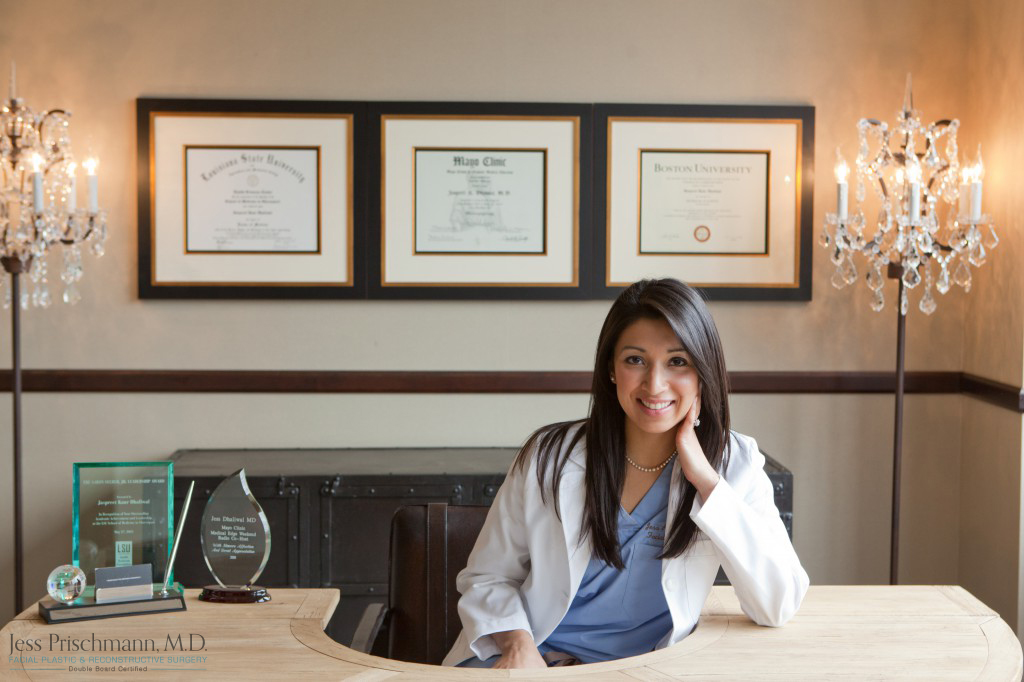 Jess Prischmann, MD is board certified in facial plastic and reconstructive surgery as well as head and neck surgery (otolaryngology). She attended Boston University where she received her Bachelor of Science degree in 2001 in journalism at the age of 19. Despite her young age, she was published in a number of newspapers, including "The New York Times" and "Newsday." In 2000, she covered Congress during one of the most memorable presidential elections in history. In 2001, she received the "Blue Chip Award," the most prestigious student award at BU's College of Communication.
Although Dr. Prischmann loved journalism, her dream was always to become a doctor. After graduating from college, she attended medical school at Louisiana State University in her hometown of Shreveport, La. During medical school, she was a television reporter for the local NBC affiliate. In 2005, she was elected into Alpha Omega Alpha, the national medical honor society. At 23 years old, she graduated in the top of her class was the first recipient of the Aaron Selber Leadership Award.
From 2005 to June 2010, Dr. Prischmann completed her general surgery internship and residency in otolaryngology– head and neck surgery at the Mayo Clinic in Rochester, Minnesota. During residency, she was acknowledged for her performance on national inservice training exams. She was also the co-host of a syndicated weekly medical radio show called "Medical Edge Weekend." For her volunteer efforts, she was awarded the 2008 Zumbro Valley Medical Society Community Service Award.
From July 2010 to June 2011, Dr. Prischmann completed a highly coveted fellowship in facial plastic and reconstructive surgery with Stephen W. Perkins, MD, a world-renowned leader in the field of facial plastic surgery. In September 2011, she was awarded the prestigious Jack R. Anderson Prize for Scholastic Excellence for the highest score in the country on the American Board of Facial Plastic and Reconstructive Surgery examination.
Dr. Prischmann is thrilled to be back in Minnesota to establish her private practice in facial plastic surgery and reconstructive surgery. She lives in Edina with her husband (a Fergus Falls native) and two dogs (a German short-haired pointer and English bulldog). In her spare time, Dr. Prischmann volunteers for the St. Mary's Health Clinics, providing care for the medically underserved and the uninsured. She enjoys time with her family, watching LSU and Vikings football, running, and learning new things.
Office Tour