Skin Care
The skin care products at our practice were hand-picked for a few very important
reasons:
Effectiveness
Reputation of company
Quality of ingredients
Ability to treat skin conditions (Acne, Rosacea, Eczema, Psoriasis, Hyperpigmentation, Diabetic Skin, Skin of patients with a history of cancer)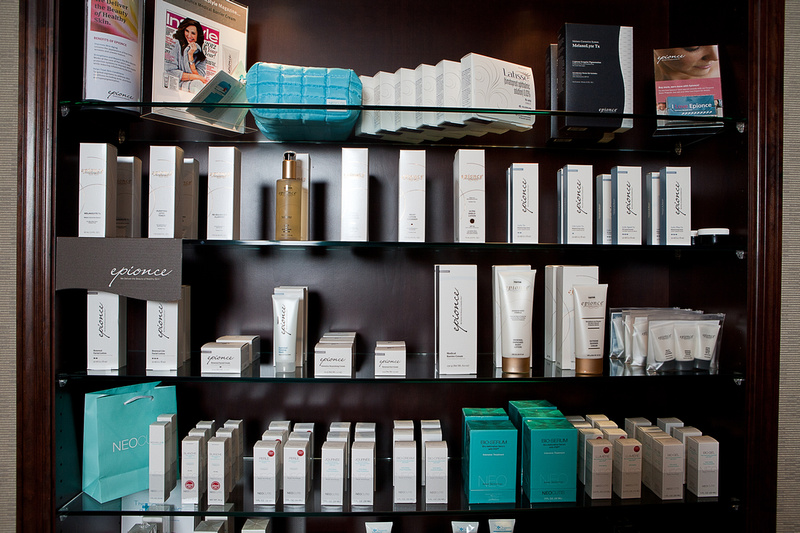 After personally using products from several lines, our experienced facial plastic surgeon, Dr. Jess Prischmann, selected a chosen few. We found and procured the best anti-aging skin care line on the market; an organic line with a worldwide 5-star following; and a cutting-edge line backed with scientific research.
We hope you will be as amazed by them as we were.
Epionce®

Developed by a dermatologist and skin researcher, Epionce®, is one of the best medical skin care lines on the market. Epionce®, is also the 2012 best anti-aging skin care line according to the Aesthetics Awards.
Epionce® works by maintaining and protecting the skin's natural barrier. Protected skin is healthy, glowing skin. Other lines strip skin—Epionce® restores it. Other products "sit" on top of the skin — Epionce® penetrates deeply.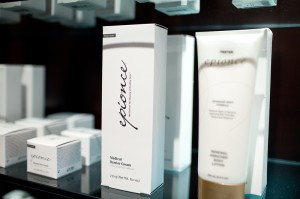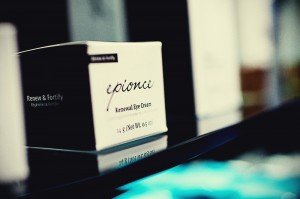 As a true "medical" skin care line, Epionce® has specific protocols for:
Acne
Rosacea
Hyperpigmentation
Diabetic skin
Cancer skin care
Eczema
Psoriasis
Epionce® is Exclusive to Prischmann Facial Plastic Surgery. In addition to our in-office inventory, we also offer shipping for these products, so please call our office to place your order. (952) 567-7151
If you would like additional information about the Epionce line, please visit their website.
iS Clinical®
Antioxidants and alpha/beta-hydroxy acids are among the most powerful anti-aging ingredients in skincare. Dr. Prischmann selected iS Clinical® products because the serums incorporate multiple antioxidants and alpha/beta hydroxy acids in one simple step. The line truly has a serum for everyone.
Active Serum
Key ingredients: Botanical-based Glycolic, Lactic, Salicylic, and Kojic acids
What it does: Improves skin texture and hyperpigmentation
Why we love it: A great, one-step, nighttime resurfacing serum, Active Serum is also a Hollywood favorite.
Super Serum Advance
Key ingredients: 15% L-ascorbic acid (the most effective form of Vitamin C), Copper tripeptide growth factor, Arbutin, Botanical-based Kojic acid
What it does: Reverses sun damage, improves hyperpigmentation
Why we love it: Incorporating a high concentration of antioxidants and lightening ingredients, the Super Serum is a major upgrade from standard Vitamin C serums.
Pro Heal Serum
Key Ingredients: L-ascorbic acid (the most effective form of Vitamin C), Vitamin E, Vitamin A, Olive Leaf extract
What it does: Anti-acne, Anti-aging, reverses sun damage
Why we love it: Using anti-bacterial extracts, the Pro Heal Serum delivers antioxidants to skin that is stressed by acne or rosacea.
White Lightening Serum and Complex
Key ingredients: Alpha-arbutin, kojic acid, glycolic acid, salicylic acid
What it does: Improves hyperpigmentation, reverses sun damage
Why we love it: As an alternative to prescription hydroquinone products, the White Lightening Serum and Complex brighten and protect with botanical extracts.
Poly Vitamin Serum
Key ingredients: Glycolic acid, Niacinamide, Vitamin E, Vitamin A, lactic acid, Green tea extract
What it does: Delivers antioxidants to mature or sensitive skin
Why we love it: The poly vitamin serum is a great product for sensitive skin, or for those who already have multiple active ingredients in their existing skin care routines.
Facial Oils
Dr. Prischmann has recently introduced one of the fastest growing trends in skincare into her practice: facial oils. Although the therapeutic effects of oils such as argan and coconut oil have been revered by other cultures for centuries, the benefits of face oils have only recently taken off in the United States. As Americans, we have traditionally gravitated toward 'oil-free' skin care products. However, we are now realizing how rejuvenating facial oils can be.
Dr. Prischmann offers oil-based skin care products from Turks and Caicos and Vancouver, Canada. The Rejouvenance and Vida skin care lines can be exclusively found in her practice.
Niche Skincare
Dr. Prischmann discovered Niche skincare during a trip to Vancouver, BC. Designed with aromatherapy in mind, the products are 100% natural and use high grade essential oils.
The Niche hydrating face serum is our favorite product because it reduces inflammation in the skin. It contains sesame seed oil, sunflower oil, rosehip seed oil, carrot tissue oil, evening primrose, Vitamin E, lavender, geranium, sandalwood, and tea tree oil. It is excellent for all skin types, and not intended for pregnant women or those with sensitivity to essential oils.
Please contact us today to schedule a skin care consultation. We will be happy to answer any questions you may have and help you come up with a customized treatment plan.