Dermalinfusion
Our experienced aesthetics team can help many patients achieve more radiant skin with Dermalinfusion, a non-surgical treatment that can be effective for many common skin concerns. Dermalinfusion is a superficial skin treatment that combines exfoliation, deep cleansing, and infusion of advanced skin rejuvenation serums to combat specific skin conditions and create a smoother, healthier, and revitalized appearance. Formerly known as the "SilkPeel®," Dermalinfusion can be a great way to maintain skin health.
What Are the Benefits of Dermalinfusion?
Dermalinfusion is a great treatment for most skin types. The treatment is customizable, which means that we can target specific skin conditions. While it is often used to maintain skin health, Dermalinfusion can also improve skin brightness, dehydration, and acne.
The potential advantages of Dermalinfusion include:
Improvement of skin affected by brown spots, sun damage, and other signs of hyperpigmentation
Improvement of skin affected by dryness and dehydration
Reduction in signs of acne
Improvement of skin prone to excess oil production, roughness, and congestion
Dermalinfusion treatments include the full face, neck, and eyelids. They are non-surgical and are completed in 45 minutes. The treatment does not typically have any downtime.
What Does the Dermalinfusion Treatment Process Involve?
The first step of a Dermalinfusion is a consultation to determine if the treatment is right for you, and if so, customize it for your specific skin concerns.
Dermalinfusion is an innovative device that simultaneously does three things:  exfoliates, extracts, AND infuses specific serums. The professional-strength serums that can be infused include Vitamin C, hyaluronic acid, salicylic acid, and a combination serum for brightening the skin.
The treatment is accomplished by gently guiding the Dermalinfusion handpiece, which is about the size of a pen, across the targeted areas of skin. The handpiece exfoliates the skin and can be changed to allow for more or less exfoliation. The handpiece is also connected to two separate systems: one extracts and cleans pores, the other infuses professional-strength serums. The result is more hydrated, clean, and radiant skin.
Dermalinfusion can be repeated monthly and is a great "pre-event" treatment. It should also be combined with an at-home skin care plan. While some degree of redness can be expected after the Dermalinfusion treatment, this effect typically fades quickly, and most patients are able to resume normal daily routines immediately.
What Can I Expect from the Results of Dermalinfusion?
The initial results of Dermalinfusion are often noticeable very soon after treatment. As Dermalinfusion is designed to clean, exfoliate, and hydrate the skin, many patients find that the skin glows for a week after the treatment. In most cases, a series of Dermalinfusion treatment sessions will be recommended in order to achieve the best possible results; however, each patient's customized treatment program will be designed based on their unique needs and the concerns being addressed.
The results of Dermalinfusion can often last for extended periods with adherence to effective at-home skin care routines. A member of our team can talk with you about advanced skin care products and provide tips on healthy skin care practices that can help you maintain results for as long as possible.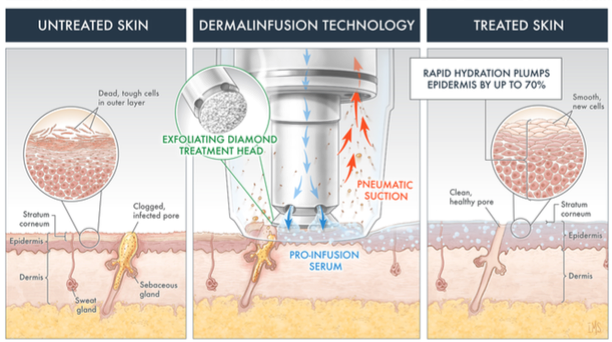 How Much Does Dermalinfusion Cost?
The cost of Dermalinfusion at our practice is $195 per treatment. Our practice accepts many convenient payment methods, and we work with CareCredit®, a reputable lending agency that offers affordable financing options for patients who qualify.
If you would like more information on Dermalinfusion, or if you are interested in scheduling a consultation, please don't hesitate to contact us today.