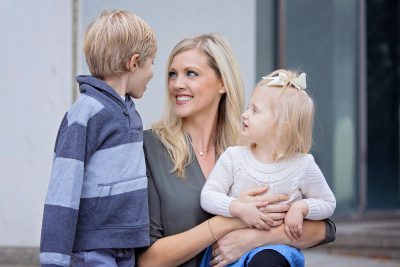 Jillian Anderson graduated from the University of Minnesota with a BA in Strategic Communications in 2004. Although she loved working as a marketing professional, her passion for skin care led her back to school for esthetics. Since becoming a licensed esthetician, Jillian has focused on advanced techniques, medical skin care, and growing her knowledge of skin-related conditions.
Jillian has been an Esthetician for over 10 years, and has been a valued part of the Prischmann team since the practice opened in 2012. She has worked in a clinical setting for her entire esthetics career, with a heavy focus on lasers.
Jillian stays up-to-date by regularly attending trainings, webinars, and preceptorships. She has successfully completed two preceptorships under Dr. Patrick Bitter Jr., a leading dermatologist and the pioneer and inventor of the FotoFacial® procedure. This advanced training has allowed her to gain a mastery of using BroadBand Light™ to rejuvenate skin. Her approach to caring for her clients is focused on listening to their needs and customizing the best treatments and products for them. She is known for a relaxing and soothing touch.
Jillian's main areas of expertise and interest include Broadband Light™ (BBL), HALO™ laser resurfacing, laser hair reduction, DiamondGlow™/SilkPeel®/Micodermabrasion /dermablading, chemical peels (superficial to medium depth), and non-invasive skin tightening. She has performed over 3,000 Sciton® laser treatments, and over 1,000 chemical peels.
Jillian's hands and heart are full with two young children, her husband, and their dog (a sweet-natured cockapoo). In her spare time, she enjoys all things musical and has sung in the Basilica of St. Mary's Cathedral Choir for many years. Her other hobbies include golfing, cooking, barre classes, and all things Disney!
What is an Advanced Practice Esthetician?
Advanced Practice Esthetician is a new certification by the Minnesota Board of Cosmetology. It means that the esthetician has completed all requirements and testing to perform advanced skin procedures. It is the highest level of certification for estheticians in Minnesota. In Minnesota, ONLY Advanced Practice Estheticians can perform BroadBand Light™ procedures, deeper chemical peels, microdermabrasion, extractions using a lancet, and dermaplaning.
Certificates
Patient Testimonials

I am so happy I found Jillian to help me with my skin care needs! For years I've struggled with oily skin and acne and Jillian has educated and set me up with the perfect skincare regimen. Once my acne was under control, Jillian also introduced me to non-invasive, anti-aging skin treatments that I just love. I've been going to Jillian for my skincare needs for about a year now and I am just delighted with the results!
– Kathy H.