Jillian Anderson, Aesthetician
Jillian Anderson graduated from the University of Minnesota with a BA in Strategic Communications in 2004. Although she loved working as a marketing professional, her passion for skin care led her back to school for aesthetics. Since becoming a licensed aesthetician, Jillian has focused on advanced techniques, medical skin care, and growing her knowledge of skin-related conditions.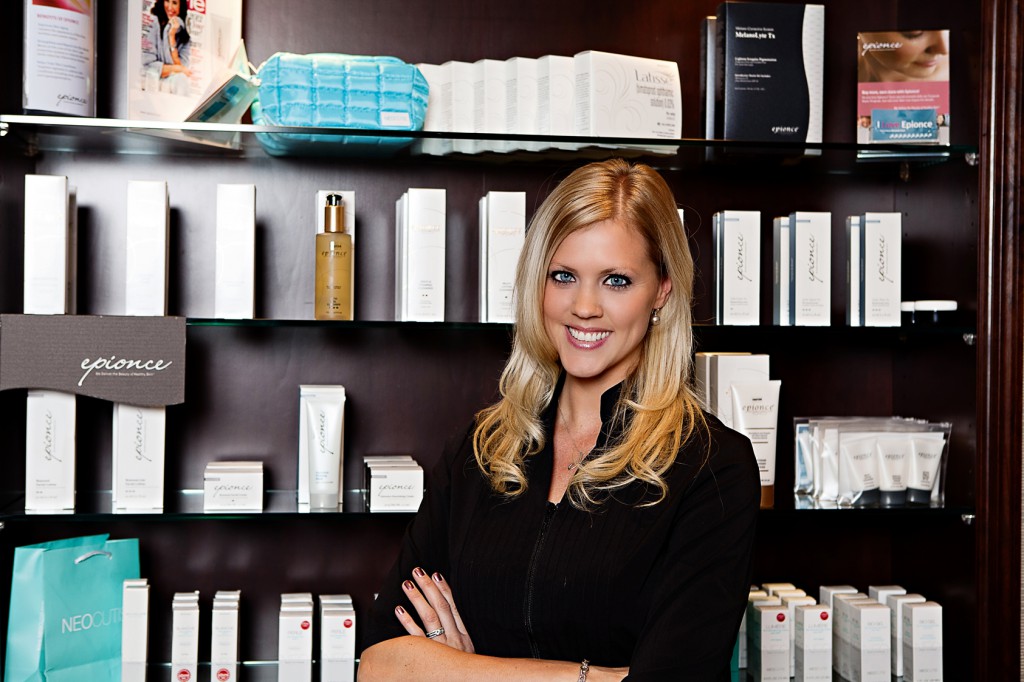 Jillian stays up-to-date on the latest in skin care regimens and procedures. Her approach to caring for her clients is focused on listening to their needs and customizing the best treatments and products for them. She is known for a relaxing and soothing touch.
As the lead aesthetician at Prischmann Facial Plastic Surgery, Jillian works closely with Dr. Prischmann to provide medically-sound treatments for anti-aging concerns, skin redness and sensitivities, adult and teenage acne, and other skin conditions. She also provides safe, relaxing treatments for women who are pregnant or nursing. Her main focus is to provide clients with innovative, results-driven, medically-based treatments for the skin while educating them on the cause and effect of everyday skin care issues.
Additionally, Jillian is trained to administer Nufree® hair removal treatments for patients interested in ridding their faces of excessive or undesired hair in a safe, comfortable, and effective manner. Originally designed to remove hair prior to facial plastic surgery procedures, Nufree® is a wax-free, antibacterial hair removal technique that can be utilized on any part of the face or body. The product has been clinically tested, and unlike some facial and body-waxing alternatives, it contains no animal products, chemicals, or sugars.
Jillian is committed to spending as much time as it takes to help her clients look and feel their best. She has devoted her career to mastering facials, chemical peels, microdermabrasions, facial waxing, eyebrow and eyelash tinting, and many other skin treatments. Jillian also performs laser hair removal under the direct supervision of Dr. Prischmann. She is laser certified and has had over 1000 hours of laser training and experience.
In addition to the many laser skin rejuvenation treatments Jillian performs, she is also experienced with a range of light-based treatments and Broadband Light (BBL) skin therapies. One of her signature treatments is called Forever Young BBL™ by Sciton – sometimes referred to as a Fotofacial. A recent study by Stanford University found that regular Forever Young BBL™ treatments can actually restore gene expression in the skin and reduce signs of aging. Forever Young BBL™ uses the power of light to help you maintain smoother, more youthful-looking skin for a long time to come. A full facial treatment with Forever Young BBL™ typically lasts less than 30 minutes, and can be combined with other anti-aging treatments, such as Skin Tyte (TM). There is typically no downtime after the procedure.
Born and raised in the Twin Cities, Jillian, her husband, and their dog (a sweet-natured cockapoo) enjoy an active lifestyle in downtown Minneapolis. In her spare time, she enjoys all things musical and has sung in the Basilica of St. Mary's Cathedral Choir for many years. Her other hobbies include running, golfing, cooking, and traveling.
Certificates
Patient Testimonials
I am so happy I found Jillian to help me with my skin care needs! For years I've struggled with oily skin and acne and Jillian has educated and set me up with the perfect skincare regimen. Once my acne was under control, Jillian also introduced me to non-invasive, anti-aging skin treatments that I just love. I've been going to Jillian for my skincare needs for about a year now and I am just delighted with the results!
– Kathy H.
I had never had more than a facial cleansing before meeting with Jillian. She really put me at ease and helped me understand what the right skin care products and laser treatments can do for my skin. I have had several anti-aging treatments with her. She works efficiently – using a gentle touch and keeping me calm. She is thorough and takes the extra time for difficult facial areas. I am just amazed at the results from my laser treatments, and I had very little down time. This has been a very good experience for me. I'm telling all my friends about Jillian and Prischmann Facial Plastic Surgery. Thank you!
– Stacy B.
The facial I received from Jillian while I was pregnant was one of the most relaxing and pampering services I've ever had! She truly understands what's best for your skin and it's evident how passionate she is about her work. Her facials definitely helped me keep my "pregnancy glow!"
– Nicole P.